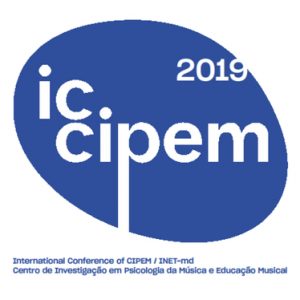 Workshop | ESE-IPL, Porto | 20 Setembro 2019
---
Singing and chanting without words: Repertoire from "Manual para a Construção de Jardins Interiores"
Ana Isabel Pereira1, Helena Rodrigues2, Paulo Ferreira Rodrigues3, Paulo Maria Rodrigues4
1 CESEM, FCSH NOVA, Portugal, 2 Musical Sciences Department, CESEM, FCH NOVA, Portugal, 3 DELCA, Escola Superior de Educação de Lisboa/IPL, Portugal, 4 DeCA Department, INET-MD/University of Aveiro, Portugal
Aims. The main goals of this workshop are: (i) to present and explore repertoire without words that can be used in different educational settings; (ii) to use the body and the voice as communicative resources; and (iii) to share meaningful moments of musical interaction.
Theoretical background. The repertoire used in the workshop is taken from three booklets that are part of "Manual para a Construção de Jardins Interiores", published by Fundação Calouste Gulbenkian, in 2016. "Colos de Música", "Colo dos Bichos", and "Colo da Terra" contain a selection of repertoire created by the participants of Opus Tutti project – a partnership between Companhia de Música Teatral and FCSH NOVA running from 2011 to 2014 – as well as material created and revisited by Companhia de Música Teatral over the last few years. It includes songs and chants from animals' thematic, and others, and folk music. The repertoire is based on Music Learning Theory principles, that is, a variety of tonalities, and meters should be introduced to children. In addition, and concerning vocal repertoire, it is suggested that songs and chants should be presented with and without words, i.e., neutral syllables are used (Gordon, 2003, 2012). The latter is the focus of this workshop. Presenting vocal repertoire without words might contribute to enhance the intrinsically musical aspects of the material, such as contour, pitches, intensities. Furthermore, to sing and chant without words reinforces the idea of music as a vehicle of communication, affection, and playing. This characteristic is observed frequently since early years, especially in parents and babies' first musical interactions (Malloch & Trevarthen, 2009).
Methodologies. This workshop is focused on movement activities and vocal exploration. In "Oh, lá da terra", a song in Aeolian and triple meter, participants are invited to play with the invisible music strings that exist all around. A chant in usual combined meter, "Minhoca", becomes a journey of changes, where participants constantly adapt their bodies and ways of locomotion. Transformation into unusual meter will also be a challenge. In "Caracol", a song in Dorian and duple meter, participants are invited to draw a snail's house using their bodies.
Implications for music education practice. Based on songs and chants without words, the implications to this workshop are (i) to offer complementary educational and artistic perspectives for teachers and other professionals that work with children; and (ii) to share activities that incorporate an immersive approach to repertoire based on movement.
Keywords: Songs without words, Chants without words, Movement, Communicative musicality
---
Full Program: https://cipem.eventqualia.net/pt/2019/inicio/