28 Fevereiro 2020 | Sala 416, Torre B, NOVA FCSH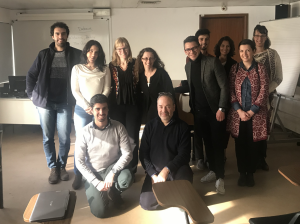 ---
Ciclo de Conferências e Workshops do Grupo de Educação e Desenvolvimento Humano (GEDH)
Data: 28 Fevereiro 2020
Local: Sala 416, Torre B, FCSH NOVA
Horários e dia da semana: Sexta, 14h00 às 16h00
Entrada livre
Elizabeth Cassidy Parker, Associate Professor of Music Education, Temple University
A specialist in developing healthy and resonant children's singing voices in general and choral contexts, Elizabeth Cassidy Parker is Associate Professor of Music Education at Temple University and Co-Artistic Director of the Commonwealth Youthchoirs, a youth choral program serving more than 600 singers. Parker's research focuses on gathering adolescent perspectives of music and identity. Her recently released book, Adolescents on Music, proposes a theory of adolescent musical identity development. Parker's full bio can be found here.
Resumo
Research Session, Qualitative Research in Music: A Closer Look at Five Approaches. This session will focus on similarities and differences of common qualitative approaches, including case study, ethnography, narrative inquiry, grounded theory, and phenomenology. Examples of each approach will be highlighted. Methodological and ethical challenges with research subjects will be discussed.
---
Sobre Elizabeth Cassidy Parker: https://www.temple.edu/boyer/about/people/elizabethparker.asp
Iniciativa do Grupo de Educação e Desenvolvimento Humano do CESEM-NOVA FCSH.